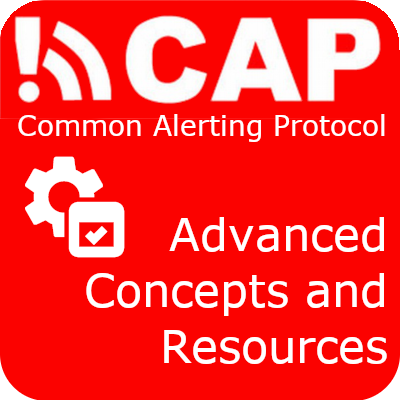 This collection of resources provides IT and communications staff guidance on setting up the software used for issuing CAP alerts and assuring that alerts meet CAP standards. As a collection of resources, this is a not a course, no badges or certificates of completion are issued.
From an IT perspective, implementing the CAP standard is fairly straightforward. The key is knowing how the CAP standards dictate the format and dissemination of alerts. As an XML-based protocol, the basic principles are simple: create your alerts in properly formatted XML files and make those files easily accessible to your clients. Beyond the basics, things of course become a bit more involved. If you already have a tool for creating alerts, you'll need to evaluate how to best convert those alerts to the CAP standards for format and content. You'll also need to host an alert news feed following the proper syndication standards. Other factors to consider include validation, security, and, depending on the target audience, the types of media appropriate for inclusion in an alert. Every organization will have unique needs.

The CAP Basics course provides an introduction to CAP alerting. Guidelines for Implementing CAP Alerts provides a framework for developing an implementation plan. Here, you'll hopefully find the resources you'll need to put that plan in place. Since this is not a course, there is no particular order in which you need to review these resources nor will all resources be necessarily helpful to you.

For a brief and generic guideline for implementing CAP alerting tools, you may want to refer to the WMO No. 1109 Guidelines for Implementation of Common Alerting Protocol (CAP)-Enabled Emergency Alerting. While it doesn't go into details, it does provide an overview of the various technologies and tools a CAP alert system may contain.


Guidelines for implementing the technical components of the CAP standard. Also available in other languages here.