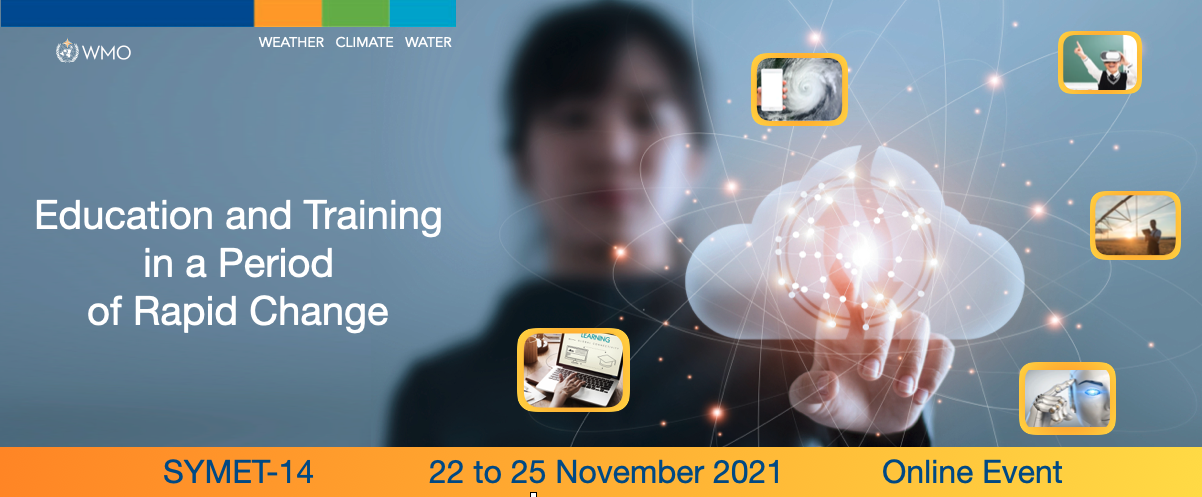 The Symposium on Education and Training (SYMET) is organized by the WMO Education and Training Office once every four years to assist the international community in meeting current meteorological and hydrological education and training challenges and those that are foreseen to arise over the next five to ten years. This year, the theme of SYMET will be "Education and Training in a Period of Rapid Change", chosen to emphasize the challenges we all face in confronting the rapidly progressing technology, service delivery expectations, globalization of the meteorological enterprise, growth in urban environments, and impacts of climate change, among others.
The Keynotes presented on Day 1 of SYMET-14 were recorded and are available as follows:

Keynote 1: "Preparing the Earth System Scientist of 2040", Dr Louis Uccellini, Permanent Representative of United States
Vimeo: https://vimeo.com/656032993

Keynote 2: "The increasing importance of education and training in promoting the paradigm shift to multi hazard early warning systems for NMHSs", Prof. Dwikorita Karnawati, Permanent Representative of Indonesia
Vimeo: https://vimeo.com/656033662

Keynote 3: "A Look at the Future of International Meteorological and Hydrological Education", Acad. Markku Kulmala, University of Helsinki
Vimeo: https://vimeo.com/656034328

Keynote 4: "Preparing for the rapid changes required in the operations of hydrological and climate services", Prof. Komi Sélom Klassou, University of Lomé, Former Prime-Minister of Togo
Vimeo: https://vimeo.com/656034793

Posters presented in SYMET-14

The posters presented during SYMET-14 can be viewed at https://symet-14.virtualpostersession.org/

SYMET-14 Statement

The SYMET-14 Statement was approved by participants on the final day of the symposium and conveys key observations and recommendations to policy makers and governments, to the World Meteorological Organization and other international organizations, and to the education and training community. You can download the SYMET-14 Statement from the folder below (available in all 6 WMO official languages).